Printing-Design Art/Photography
United Kingdom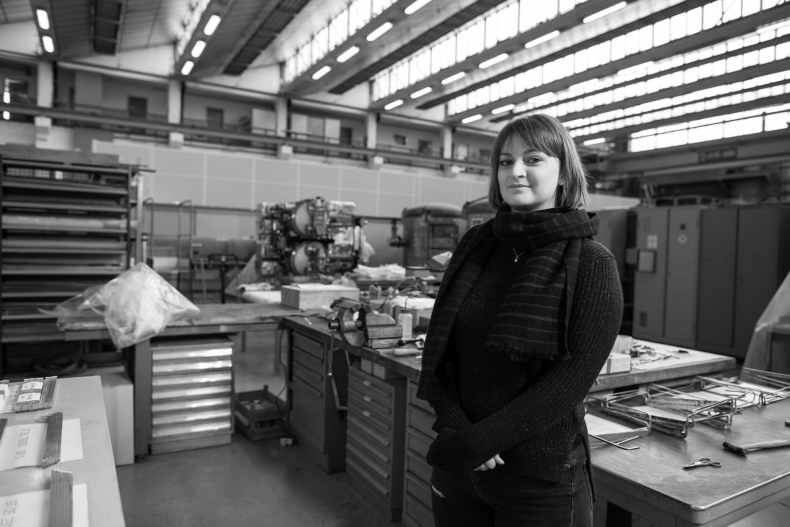 "Hi! My name is Sophia and I come from North London. I Studied at London College of Contemporary Arts (LCCA) in Soho and got a HnD (Higher National Diploma) in Photography."
How did you find out about the CERN TTE programme?
My friend Leo was an intern here and was searching for his own job. When looking online he came across this TTE opportunity for a junior photographer and contacted me suggesting I should apply. I applied thinking that it was unlikely I would get the job, but  I found no harm in trying. I then didn't think about it much, didn't want to keep my hopes up.
I didn't tell any of my family at the start because I didn't want there to be a bigger pressure and I didn't want to let them down. When I was told I was through to the next round, I was really excited. I didn't realise that I had actually been chosen for the job! My Mum and Dad were so happy for me and found it amazing. My brother, who is like my idol, couldn't believe it. I think he was concerned that I would struggle to find a job easily in photography.
Did you have any hesitations?
I had none about applying but moving abroad to live alone was daunting. At the time I didn't realise it would be such a massive life change, I had applied whilst at university and got the offer. I had to pass the diploma to come and this added more pressure. There was a point when I was really concerned about leaving the UK, the implications started to become clear, living alone abroad. So far it has all turned out so well and I haven't looked back.
What do I do here?
I am a photographer, our department gets contacted by other CERN staff who need us to take photos of equipment, people, installations, events, etc. They also contact us for creative ideas. This is all very new, in the 2 months I have been here I have photographed Spain's Vice-President which was quite intense, and the Nobel literature winner Gao Xingjian - I got his book signed by him too which was a bonus. There is some work outside working hours too, especially for events like TEDx which was amazing as I had always wanted to attend a TED Talk.
What were the Challenges?
I was really lucky as I already had a friend here. I am quite fairytale dreamer, I like new adventures and visiting new places, so it was cool and exciting, I wasn't that scared. Leaving my family and friends was a little tough but I knew they weren't going anywhere. I struggled buying food alone in French for the first time and the laundrette was tricky too (all instructions were in French). I wasn't used to the language and attitude so I felt a bit like a little fish in a pond.
What are the highlights of working here?
It's really beautiful here and the people are much more relaxed. I love London as it is where I am from but it's nice to have a change of lifestyle and focus on being happier as a person. London is very demanding and you feel more lonely there at times, whereas here everyone is very connected. I have only been here 2 months and I feel I have a connection between loads of different people. I like to meet people from different backgrounds, that is the reason why I like photography.
Any particular messages to other aspiring technicians out there?
If you keep trying hard to get what you always thought you wanted you might miss out on other better opportunities. You have to let go of what you think you want and open your mind: in London I was maybe a little less confident in my abilities and often focused on smaller projects that I thought were the world but now I'm here I see I am doing a wider variety of things and gaining more experience. There are so many opportunities to do even more. Believe in yourself, take chances and risks - it's something I love to do.
Even though I'm only 22 I don't feel like there would have been a better time to come here, I feel lucky to have found something so exciting and interesting so soon after university.
How cool is that?